Test Your Bible Knowledge [Easter Trivia Quiz]
[From Email notifications, click the title for best web viewing]
Typically, Easter Sunday is the most well-attended Christian church service of the year. But what is Easter? It is the season where Christians pay tribute to the death, burial, and resurrection of Jesus Christ. According to the Bible, Christians believe that Jesus was raised from the dead three days after He was crucified on the Cross and through His death, burial, and resurrection. Christians also believe that Jesus Christ paid for all our sins and through Him, we can have eternal life.
Let's see how much we know about the Easter Season! If you don't know the answers, take a guess. Then, scroll down and see the answers along with both a short answer and a more detailed Biblical explanation below. Great way to test your kid's knowledge too!
Questions
How many hours was Jesus on the cross? a. 3 hours, b. 6 hours,  c.  9 hours, d. 12 hours;
Jesus died on the cross so . . . a.  Angels would come and protect us, b. We could be happy, healthy, and wealthy in this life, c. We would be forgiven of our sins, d. We could understand the Old Testament;
After Jesus died, whom did he send to help his followers? a. The Greeks, b. His angels, c. John the Baptist, d. The Holy Spirit;
What Old Testament prophet predicted that a messenger would announce Jesus' coming to earth? a. Jeremiah, b. Isaiah, c. Ezekiel, d. Micah;
In the Gospel of Luke, what did the men who were holding Jesus in custody do to himP? a. Mocked him, b. Beat him, c. Blindfolded him, d. All of the above;
Who was compelled to carry Jesus' cross behind him? a Simon of Cyrene, b. Barabbas, c. Peter, d. Caiaphas;
After Jesus' death, who took Jesus' body away with Pilate's permission? a. Mary-Jesus' mother, b. Joseph of Arimathea, c. Nicodemus, d. Simon Peter;
To whom did Jesus say the following? "Do not cling to me, for I have not yet ascended to the Father; but go to my brothers and say to them, 'I am ascending to my Father, to my God and yours.'" a. Nathanel of Cana, b. Thomas, c. The angels; d. Mary Magdalene;
Where was Jesus crucified? a. Antioch, b. Corinth, c. Golgotha, d. Nazareth;
Pilate addressed the crowd desiring to release Jesus, but the crowd kept shouting, a. Who does he say that he is? b. Crucify him, crucify him! c. Are you the son of God? d. Worthy is the Lamb, Worthy is the Lamb.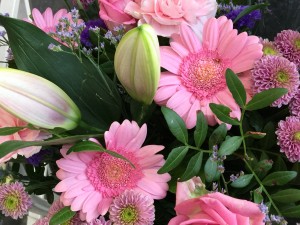 Short Answers
b
c
d
b
d
a
b
d
c
b
Detailed Answers
Now from the sixth hour there was darkness over all the land 

until the ninth hour.

 Matthew 27:45 

From the sixth hour. 

—The first three Gospels agree as to time and fact. Assuming them to follow the usual Jewish reckoning (as in Acts 2:15; Acts 3:1; Acts 10:3; Acts 10:9) this would be noon, the fixing to the cross having been at the third hour, 9 A.M. (Mark 15:25), and the darkness lasting till 3 P.M. St. John names the "sixth hour" as the time of our Lord's final condemnation by Pilate, following apparently the Roman or modern mode of reckoning from midnight to noon. Looking to the facts of the case, it is probable that our Lord was taken to the high priest's palace about 3 A.M. (the "cock-crow" of Mark 13:35). Then came the first hearing before Annas (John 18:13), then the trial before Caiaphas and the Sanhedrin, then the formal meeting that passed the sentence. This would fill up the time probably till 6 A.M., and three hours may be allowed for the trials before Pilate and Herod. After the trial was over there would naturally be an interval for the soldiers to take their early meal, and then the slow procession to Golgotha, delayed, we may well believe, by our Lord's falling, once or oftener, beneath the burden of the cross, and so we come to 9 A.M. for His arrival at the place of crucifixion. From Ellicott's Commentary for English Readers.

We know that our old self was crucified with him in order that the body of sin might be brought to nothing, so that we would no longer be enslaved to sin.

For one who has died has been set free from sin.

Now if we have died with Christ, we believe that we will also live with him.

We know that Christ, being raised from the dead, will never die, death no longer has dominion over him.

For the death he died he died to sin, once for all, but the life he lives he lives to God.

So you also must consider yourselves dead to sin and alive to God in Christ Jesus. 

Romans 6:6-11
But when the Father sends the Advocate as my representative—that is, the Holy Spirit—he will teach you everything and will remind you of everything I have told you.  John 14:26

A voice cries: 

"In the wilderness prepare the way of the

Lord

; 

make straight in the desert a highway for our God.

again;

Isaiah 40:3

Now the men who were holding Jesus in custody were mocking him as they beat him.

They also blindfolded him and kept asking him, "Prophesy! Who is it that struck you?" Luke 22:63-64

As they led Jesus away, a man named Simon, who was from Cyrene, happened to be coming in from the countryside. The soldiers seized him and put the cross on him and made him carry it behind Jesus.

 Luke 23:26

After these things Joseph of Arimathea, who was a disciple of Jesus, but secretly for fear of the Jews, asked Pilate that he might take away the body of Jesus, and Pilate gave him permission. So he came and took away his body.

John 19:38
Jesus said to her,

"Mary."

She turned and said to him in Aramaic, "Rabboni!" (which means Teacher). Jesus said to her,

"Do not cling to me, for I have not yet ascended to the Father; but go to my brothers and say to them, 'I am ascending to my Father and your Father, to my God and your God.'" 

John 20:16-17

And they brought him to the place called Golgotha (which means Place of a Skull).

Mark 15:22; [Golgotha, often called Calgary, is the Biblical name for the place where Jesus was crucified. It is located right outside the walls of Jerusalem.]

Pilate addressed them once more, desiring to release Jesus,

 

b

ut they kept shouting, "Crucify, crucify him!"

Luke 23:20-21
God Bless. I want to wish you a wonderful Easter Sunday. And, if you normally don't go to church, why not go this Easter? God would like that! And, so would your family!

Bible Verses:
See above.
Prayer:
Jesus, thank you so much for dying on the cross for my sins. Let me always be grateful for how you have changed my life. Thank you that I can know I have eternal life through you. Lord, be with my friends and family who do not know you as Lord and Savior. May they be convicted by your Holy Spirit to make the most important decision of their entire life. In Jesus' Name. Amen.
---
To receive email notifications of new posts or to receive monthly newsletters, please subscribe at www.GreenePastures.org
Web Page: www.PattiGreene.com
To order Awaken Me: Growing Deeper in Bible Study and Prayer (A Devotional Prayer Journal) by Patti Greene, click here.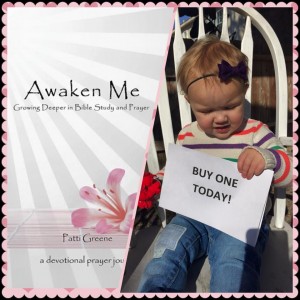 To order Anchor Me: Laying a Foundation in Bible Study and Prayer (A Devotional Prayer Journal) by Patti Greene, click here.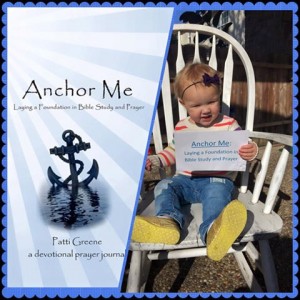 ---
Comments are always welcome. And, I would love to see you subscribe to my blog. To sign up for Newsletter and/or blog, click here.

#bgbg2